A Brief Discourse on
History of Dvaita School of Vedanta
in English
By
Sastranidhi Dvaita Vedantarasajna - Madhvamunipriya - Mahamhopadyaya
Dr. B.N.K. Sharma
Retired Professor and Head of Dept of Sanskrit.
Ruparel College, Mumbai-16.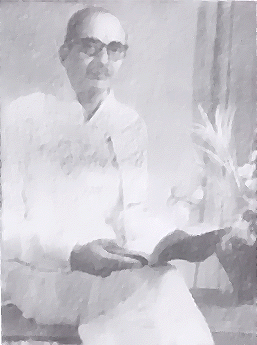 Dr.B.N.K Sharma, Retired Professor of Sanskrit ,Ruparel College,Bombay has attained international renown and recognition by his seminal contributions to the history literature and philosophy of the Dvaita School of Vedanta during last 60 years and more.The literature in English on Dvaita Vedanta was very less..Dr .Sharma filled this gap in a big way.
"History of Dvaita School of Vedanta and its Literature", Madhva's Teachings in his own words", "Philosophy of Madhvacharya", Mahatatparya of Mahavakyas ,"The Bhagavad Gita Bhasya","Brahmasutras and their Principal Commentaries".are some of his masterpieces.
His epoch-making "History of Dvaita School of Vedanta and its Literature" in two volumes,a most important contribution to the history of Indian Philosophy, has deservedly brought him the highest national literary distinction of the Sahitya Akademi award in 1964. Other important awards received by Dr.Sharma are :
President of India's Award - for Eminent Sanskrit Schloars in 1991.
Government of Maharastra's Award - for Eminent Sanskrit Schloarsi n 1992
Sri Vidyamanya Tirtha Prashasti .
Rashtriya Sanskrit Vidyapeetha ,Tirupathi conferred "Mahamahopadyaya title to him in 1999.
Dr .Sharma has published many research papers on Dvaita Vedanta and also given many Seminars,Endowment Lectures,Articles for Various Magazines.
(From Our Archives)
To: Dr.Sharma
Till now no one has done so much service to Dvaita Vedanta through English language as you have done,during the last half a century.Your name will live for ever in the history of Dvaita Vedanta.May Sri Hari and Vayu enable you to render still greater service and work in the field.
H.H.Sri Vishvesha tIrtha Shreepadaru
Sri Pejawara Adhokshaja Matha, Udupi.
We express our deep gratitude to Dr. Sharma for this valuable speech for Madhva Radio listeners all over the world.We are moved by the enthusiasm shown by Dr.Sharma at his age of 95 years.
We take this opportunity to express our gratitude to Sri S.K.Bhavani for delivering a lecture on "SharaNagati".
We take this opportunity to thank Dr.D.N.Shanbag, Sri.S.K.Bhavani, Sri Bhimarao and Smt .Madhavi Arun for helping us to organise and Publish these Lectures..
A discourse on
SharaNagati
in English by
Sri.S.K.Bhavani
Principal
Somayya College -Mumbai